we started festivites 10/20 with Andy attending a birthday/Halloween party. here he is on he way out - right before the camera battery did..grrr...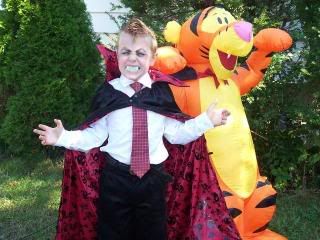 The festivities continued on Saturday with a party at
AMAA
. there were LOADS of kids there and lots of fun. Colin started dancing, but Todd and the camera were on the other side of the room and by the time he got to us with the camera, this is all I could get.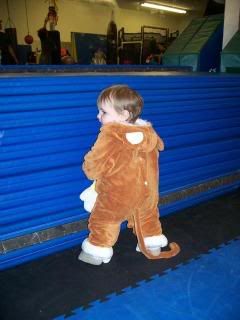 since Todd was manning the camera, I didn't realize that most of the pics were blurry... so no good group shots. I do think this is a pretty spooky pic of Andy...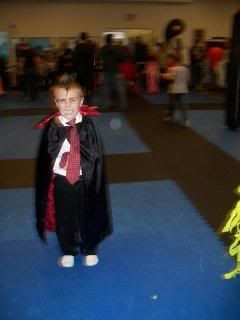 for reasons I don't understand, Ryan was in a snit.
I
he could have won the prize for "most creative" costume if he's acted like a swamp monster, but he wouldn't perform... he also didn't want his picture taken.. see..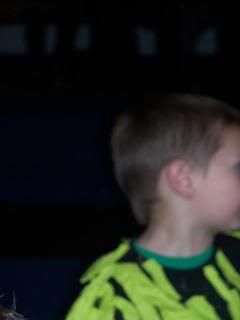 HA! I caught him!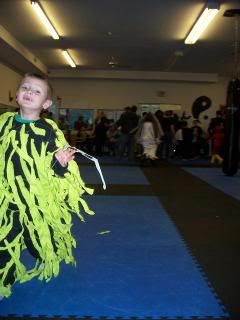 notice the 3D glasses? those were his "glowing eyes" his idea.. as was the swamp monster. I, however designed & sewed the rest of the costume. since he REFUSES to wear any pants other than "soft pants" (the rest of us call them sweats) I have removed the "swamp" and now he has another pair of soft pants for school - not that he doesn't have a dresser drawer vomiting jeans...sigh...
I took the day off on Halloween when it occurred to me that there was NO way I was going to have a clean house, hot food AND my sanity for the evening's festivities. I was even able to be a "harvest helper" for Andy's class.
yes- "harvest helper" why not a Halloween helper? apparently Halloween isn't PC. the kids put on costumes for a costume parade and had treats for their "Harvest Parties". seriously... do they actually think that ANY of these kids are harvesting anything other than candy????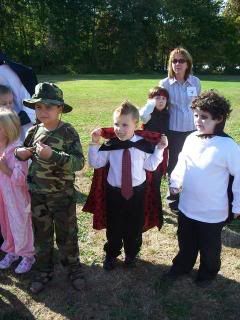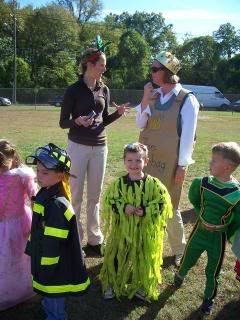 the kids looked great and had loads of fun (not to mention sugar!)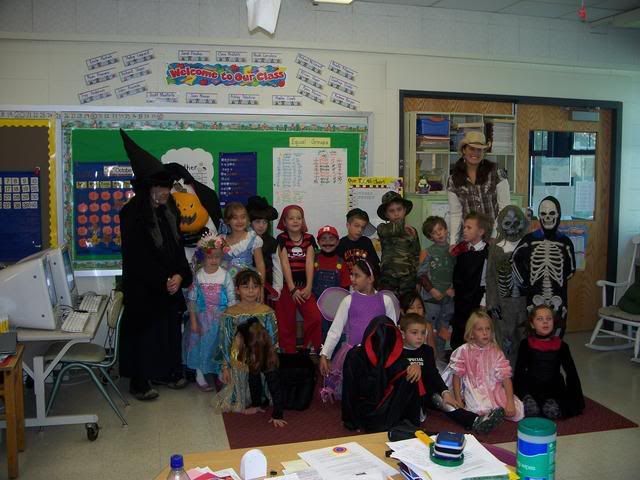 then I took the boys and headed home for our own party. FIL took lots of pictures. I asked him to email them to me when he uploaded them but he said something about "film" and "developing"... whatever... he did take this with our camera.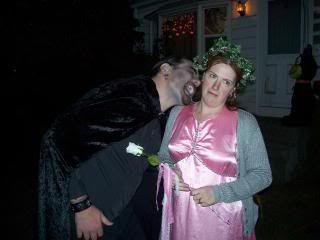 I believe I was in the middle of telling Ryan to stop punching the blow up ghost..
I went in and took pics of these cookies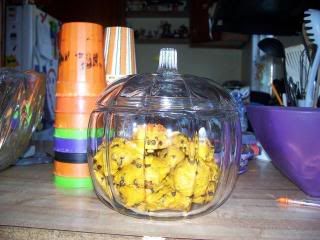 b/c I wanted to remember to post about them. YUM-O! 1 box yellow cake mix, 15oz can of pumpkin and a half bag of mini dark chocolate chips. drop onto cookie sheet and bake at 350 for 8-10 min. SOOO good! they were a big hit at school and in our house. they were SO easy I'll certainly be baking them again soon!
I also made this interesting punch.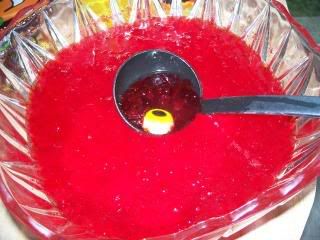 Jell-O, 7up and gummy body parts. it was good, but I'll jsut save it for next Halloween...
I then put my camera on the counter and didn't take any more pictures... aside from the usual culprits (the grandparents, my sister, Jimmy, Kim and Jason) my sister had a date! yes! and the MOST surprising part? he isn't insane, drunk or a total ass! the best part is that he is SO good with Jimmy - it seems instinctual for him- and that makes me a very happy auntie!
we also got to meet the lovely
Cynthia
and her equally lovely family. I'll wait while you go check out her blog. make sure you get to see the pics of her little cutie Em! He is SO sweet! and such a good boy! we chatted and ate and compared baby sweaters before we said goodbye. (the boys were chatting about cartoons, Muppets and music.. hee..hee..). about 3 minutes after they left, I realized that we didnt' get any pics of us or the babies.. WAHH...
so then I cleaned up and went to bed... I'm still tired...