Kids:
Saturday, we took the kids to Devon Day. there were rides, ice cream, popcorn, magic show, and, of course, face painting. Andy got a Praying Mantis (his favorite bug. he actually found one hanging out in my veggie garden a couple of weeks ago. Good bugs.. we like that!)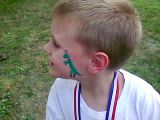 Ryan got a Hermit Crab (or so he called it) "tattoo" on his arm. No, he's not like his dad AT ALL...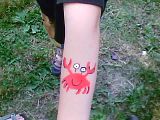 Colin's vocab is just EXPLODING! new words every day. I forgot how amazing this phase is.
The boys filled up the marble jar and were rewarded with a shopping spree at the book store. I've never seen them so overwhelmed with options.. not even at the toy store!
This is week 2 of Karate Camp. The boys had So much fun last week, that we didn't need to think twice about sending them to the additional week.
Knitting:
I am making slow but steady progress on my Anniversary Shawl. I've gotten this beading thing down, so the pace is picking up now. It still looks like a mess of seaweed, just with pearls in it now. Once I finish this tier, I'll try to pin it out for some pictures.
Since Ryan liked Todd's socks so much, and I had so much yarn leftover, he is getting a pair too. They are my current commuter knit.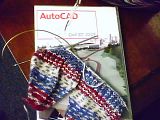 I finished my shorts, short of weaving in the ends. I'm not loving them. I need to force myself to sew in the ends, try them on and give them a change before I decide they are an UGH! and yes, I will take pictures of the monstrosity for your amusement.
Assholes:
We had a great streak going there for a while.... but this asshole blew it last night. Just when I thought people were getting the picture...
Injuries:
According to my doctor, my leg is healing well. I think it still looks pretty nasty, but hey, he went to Med School... I didn't... I'm back on my bike, but not without pain when I pedal. It is still better than driving or taking the cab.. I think I've become addicted to my daily rides. There are worse things....
As far as the legal action, I was contacted by the drivers insurance company and referred them to my lawyer, so I guess that ball is starting to roll...
oh- and it isnt' just me,
see
!