When the summer heat first started to sizzle this year, I picked up a kiddie pool with a cool sunshade/sprinkler. Colin thought it was so cool, he jumped in clothes, shoes and all!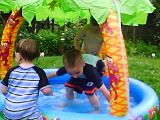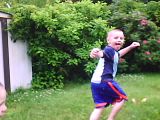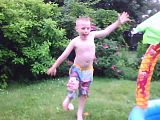 Sunday, we were finally able to get the kids to the beach. we live less than a mile away, yet we couldn't seem to get there. Between the weather and other obligations, it was just impossible! Hopefully we'll be back again soon. Hopefully we will remember to medicate the kids first (really, how did I miss that?). Although, they really were good.. until it was time to go...
You can see Todd and the big guys in the background playing in the surf. Colin and I (and my stitches) hung out in our new cabana and played in the sand. The cabana was definately worth the $13 investment! We need more sand toys. So glad I figured this out before camp!