I finally finished my Zaftig Tank. I added lenfth in a horseshoe lace. I increased the needle size a couple of times as I went down. I finished it off with a crochet BO. I also opted to sew the straps to the center back to make it a tank rather than halter. I have long hair - it knots.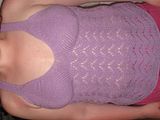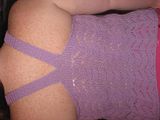 you can't really see it in these pictures, but the last ball of yarn was a different dye lot (WHY didn't I check first???) I didn't notice until I was 2" into the lace and said "eff it"! Now, it still bothers me. it isn't distinct enough to look like an on-purpose stripe, and it isnt' close enough that it isn't noticable - well to me anyway. I'm considering a slight over-dye to attempt to even it out.
I have 2 things OTN right now.
I have a pair of shorties for Colin as my home/soccer project: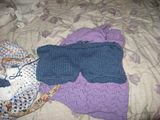 It is basically my "Twisted" pattern, but I did the cuffs in seed stitch and added crotch gussets.
My train/travel project is a pair of socks for Todd: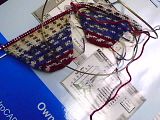 They are coming along, but he does have some big feet!
All the yarn in this post was from my trip to
WEBS
for the
Harlot signing
. There is still yarn in that stash for another pair of shorties, 1 more pair of socks for Todd and 2 pairs for me!