I found a great deal on HUGE microfiber towels, so I picked up an armful. I was finally inspired to sew new diapers for Colin. he really needs larges - especailly pocket fitteds for night, but I've been so burned out in the diaper sewing department. This was the inspiration I needed. I cut out enough (6) MFTs to make 3 diapers and 2 inserts! I put together 1 of each. Colin wore it to bed that night.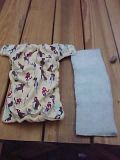 That motivated me to wrap up the shorts I am knitting for him. I think I increased too much in the gussets and they were certainly big on him, but I cut the elastic to the right size and it worked out. However, due to the oversize, I ran out of yarn....so I grabbed a somewhat coordinating leftover from the stash and went with that for the waist band. He wore those that night as well...
With those done (and a highly bruised kneecap) I decided to cast on my Forrest Path Stole. My second - and biggest - lace project. It is knit in cobweb weight silk (think thread). the blocks are done in entrelac- a technique I've never attempted. Since that isn't hard enough, I am opting to replace the nupps in the Lillies of the Valley blocks with seed beads (which I haven't bought yet). Did I mention that I am only doing the Lillies of the Valley blocks? unless I can find a lace pattern for heather that will work. I am planning on wearing it for our 10th anniversary vow renewal - next April. I had Lillies of the Valley in my boquet when we were married - and white heather too, so that'll work fi I find it. So far I have the bottom border and one base triangle knit. I need more stitch holders.