Daddy Day Camp
starts tomorrow! and I'm ready... hope Daddy is!
Today, the boys present their teachers with gifts that I made.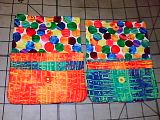 They each got a
Wonder Wallet
in Eric Carle prints. How can you not LOVE those fabrics? and for a K and 1st grade teacher? one is retireing, so she got a gift card to DnD in hers. The other just came to the school this year and is still trying to accumulate materials, so she got a GC to Staples in hers. The boys picked the colors and the snaps.