If you aren't interested in yarn, then move on- nothing to see here today.
First up in the FO parade is the
Everlasting Bagstopper
. My initial thought was to put backpack straps on it and use it as a beach bag, then it occured to me that I did not want to carry the kids sandy, soggy beach toys on my back. Plan B was to make fabric straps with a really pretty shell print left over from the fish quilt. I like Plan B! the yarn is Sugar & Cream leftovers from the stash.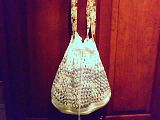 Hmm... looks like there is something in that bag... nope not sand toys...
Zaftig
! Since I would like to be able to wear this in public, I am going to add length to it in a lace pattern to make it a proper top. I am considering converting the straps from halter to tank, but I'll decide when it is done. Yarn: Cascade Fixation, color # 6399. Part of my haul from
WEBS
.
Speaking of WEBS, I had my "Emergency Knitting" (not practical? LMAO!) with me on Sunday. I knit during the talk and while in line. I would have knit in the car too, but I was driving. It was really cool to be around so many people who not only knew that I was indeed knitting socks (not one person asked me why!) but most also recognized the pattern. It is
Pomatamus
. The yarn is Lorna's Laces Super Sport in the "Jeans" colorway. They are on my feet. They are Comfy!
I worked them toe-up instead of cuff-down as "suggested" by the pattern. I modified my short-row heel by knitting the back of the heel (where I picked up th estitches/wraps) in the twisted rib. I love how it ligned right up with the pattern!
Other than that, I am finding great use for leftover sock yarn (design forthcomming) and I am goign to be casiting on some Shorties for Colin in the very near future.