ok- yes, I've probably lost my mind and really... it's a long story. The bottom line is- I thought I'd have some fun with some leftovers in the stash. Opal "Tiger" and some unknown soft eyelash yarn.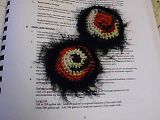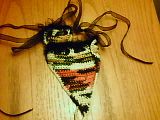 the patterns for both the
pasties
and
thong
are available as a free download on
Ravelry
.
there you have it. Crochet pasties and matching thong. If you have to ask Why? I simply say - why not?