ok- so it was almost 2 months ago now, but I just pried the pics out of Mom's camera .
Look carefully at these two pictures (click to bigify)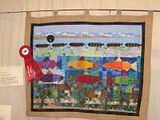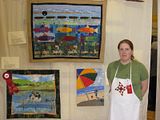 Mom took the picture on the left on Saturday. Sunday, we were both working, so seh took one with me and my second place quilt. ummmm wait a sec.. Did that ribbon get up and walk away? looks like somebody oopsed and put it on my quilt and then moved it to the "real" winner. So close, huh?
It also occurs to me that I didn't upload the picture of my carrier at the show, but here it is in my pear tree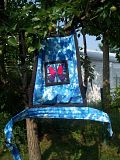 Here is the Library Challenge quilt top. My block is the one right next to the ribbon. Mom's is down one row and over 2 blocks.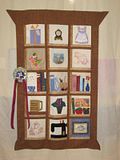 Once I get Mom to take and upload a picture of her post card, I can then post the pictures from the first post card exchange - as I am working on the second exchange!