I cast these on at camp. They started out going failrly quickly. BUT the way the short rows are distributed, it started to feel never-ending. FINALLY I got to the gusset (pattern is wrong - you need to increase on BOTH sides of the markers), seperated the legs and sewed the crotch. The legs went on and on and on. really... the kid isn't that tall... but the (seemingly) endless stockinette did nothing to hold my attention. It was only the arrival of my Noro Silk garden for my next project (already cast on, but the subject of a future post) that pushed me to finish them. That and it's getting cold here... BRR! the final insult was sewing all of those damned ends! next time (HA!) I'll sew as I go.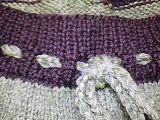 I like the construction and the fit. If I decide to make them again, I think I may change the waist to a casing for an elastic, but that is just a matter of preferance. It really wasn't the pattern, but the size that bored me. That is a LOT of stockinette for one kid....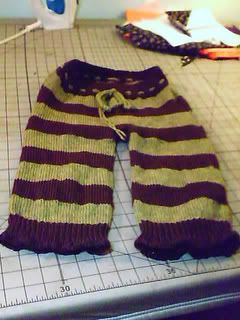 Pattern:
Booty Extreme Knit Pants
Yarn: Cascade 220 (green) & Patons Merino (brown)
Size: 2T/3T
I tried getting him to pose for a picture wearing them, but he was busy with his research in perpetual motion. (but they DO fit!)
Now that they are done, you know what that means, right? Yeah.. I'll bet he'll start actualluy GOING on the potty while he is stting there... too bad.. he's wearing these pants anyway!
ps- see
Cynthia
. you arn't the only one knitting/blogging pants!