For those of you who don't know me IRL, I am a tea snob. there. I said it. I am and I'm not ashamed of it! we do own a coffee maker, but I don't think we have filters for it. I'm not even sure what filters to get... usually, I buy a Box O Joe at DnD and use the coffee maker to keep it warm when we entertain. Coffee snobs (like my brother and MIL) know better and bring their own.
We all drink tea here. I do. Todd does. So do most of our friends. When Kim and Kathy lived near by, we regularly had tea together. In fact, Kim and Jay came over for tea and Cinnamon rolls every Sunday after Church. With all of the tea around them, it seems natural that my boys are tea drinkers. We added one more to the ranks on Sunday!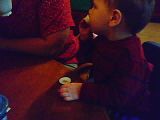 I know what you are thinking.. CAFFEINE! well, yeah.. but in spite of the rumors you may have heard, it is a LOT less than coffee or soda. Besides, Andy & Ryan have ADD/ADHD and caffeine actually helps a little.
More importantly, we use our "tea parties" to help teach the boys some manners. They have fun (and cookies) and they learn not only what good manners are, but WHY they are important. And yes... they are important. Our society may have become quite informal, but I think things like respect and manners are becoming far too scarce and need to be taught to a lot of adults as well as my kids.
I can't change the world, but I can teach my kids to say please and thank you, to address adults formally and to respect themselves, others and the world in general. I can raise gentleman and, with any luck, good husbands and fathers (preferably in that order).