The Pond Scum socks are D-O-N-E! finally! It was starting to feel like I've been knitting these for.E.V.E.R. I did manage to use up almost all of the yarn though.. That is always nice. I hate waste.
Pattern- Seaweed Socks by Wendy Johnson
Yarn- ONline Linie 3 Supersocke 100 lost the ball band with the colorway... but I bought it at WEBS.
Ravelry project link
Notes- I like the heel - I'll probably use that again. The lace was OK, but I'm clearly sick of it. It does bias a bit
Up next:
I promised the next pair of socks to Todd. He Picked out some "MANgenta" sock yarn at WEBS,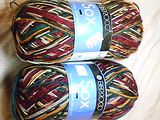 BUT he was flipping through the latest WEBS catalog (he'll read
anything
in the bathroom!) and saw a picture of
CookieA's "Monkey
" socks and a black/grey sock yarn. So I ordered the yarn. It came in as I was Casting off the Pond Scum, So I started the
Heavy Metal Monkey Socks
this morning.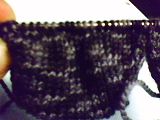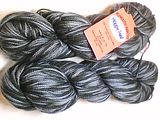 Toe-up - as usual. I'm also going to omit the picot at the cuff. It isn't very manly...