There really needs to be some sort of 12-step program for Noro... this scarf practically FLEW off of the needles! In addition to the color gradation, they yarn varies in thickness from as fine as a lace weight to an aran weight with the occasional slub. very interesting texture. I was disappointed in the amount of vegetation still in the finished product. At that price, I expect none. I had no knots in any of my 4 skeins, which was great. I've heard some scary stories about knotted Noro and colorways not matching.
the pattern is addictive too... one more square... I'll just finish this tier.... yeah... that was pretty much all I did during the long weekend (well, I did bake 2 batches of cookies & 2 pies, clean the bathroom, wash 4 loads of laundry, buy groceries, help teach a self-defense workshop and apprehend an intruder in a real- life application of my self defense skills).
I bound off the last tier Monday night with only about a yard left over! talk about calling it close!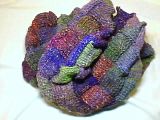 Tuesday night, it got a soak in some tepid water and wool wash, then a gentle blocking. I laid it out on the guest bed and pinned the ends only. I wanted it to be blocked neatly, but I also didn't want to abuse the silk (45%) too much. By last night it was nice and dry.
..and even more spectacular! I'm almost hoping the real cold gets here soon... almost!