with the baby knitting taken care of, I was able to get back to my regularly scheduled UFOs. I finished off the hyperbolic ball I've been playing with, which will in all likelyhood be a part of another baby gift..
I've got another one going in Bernat Baby Blanket for yet another baby gift.
With cooler weather comming, I knew it was time to get the kneedles flying on Colin's longies! I think there is an error in the pattern for the gussets, but I figured it out. It just calls for the increases on one side of the marker, but they need to be on BOTH sides to be symetric - like most humans generally are. I ended up just casting off the crotch stitches and sewing them up. If they were a gift I probably would have been neater, but they are for my kid to wear to bed, so I'm going with easy. I picked up 4 stitches along the BO/seam on each leg. I decreased those down to 1 additional stitch that I am keeping the rest of the way down the leg. I am working both legs at once on a long (32"?) circular. I've got the first green stripe done already. now... to figure out how long to make the legs!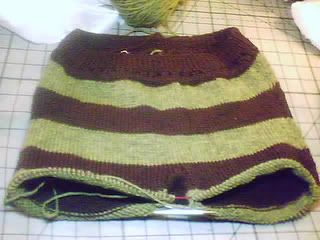 once these are done, I can cast on my Noro Silk Garden Entrlac scarf that I've been dreaming about and get cracking on my anniversary stole. Time for new pics of the stole too. I've made a bit of progress since the last photo.