This past weekend was
National Alpaca Farm Days
and CT DOAG's "Tour de Farms" (too bad it rained!). One of the participating farms is just a half mile or so from my parents' house, so Mom and I took the boys on Saturday.
They got to meet sheep, alpaca, a llama and a goat and the woman who raises them. They asked a lot of GREAT questions! they asked about what they ate, where they slept, how they were sheared and did it hurt (it doesnt - they look forward to it. wool gets hot in the spring!). Perhaps the best question was from Ryan. He asked her why there were thermometers all over the barn. I didnt even notice them! She explained where the animals come from (mountains!) and that their coats keep them very warm - especialy in the summer - so she has to make sure that the animals are cool enough and if it gets too warm, she gives them baths - even 2 or 3 a day. ALso, in the winter, she needs to make sure they are warm too.
Since I was chasing an over-stimulated toddler, I didn't get any pictures.. BUT I did get some fibers!
I got 8oz of lovely roving from "Shadow" whom we all got to meet - and I thanked for the wool! It is all carded and ready to spin. Hmm... spin... I've never done that...
Mom dug out the drop spindle that my brother made for her in shop class an eternity ago and attempted to remember enough to teach me. I got started and I'm pretty sure it is a hot mess. thickness is all over the place and it is certainly overspun. sigh...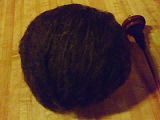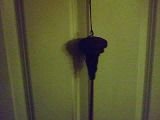 I dont know what I'll make from this mess, but it'll be mine!
I also picked up a needle felting kit for the boys and I to do together. They picked out a ghost kit. I made one to figure out how it worked then showed them. they had SUCH a blast that I may have to get more roving and let them make some Christmas ornaments for gifts.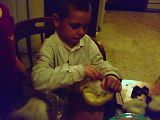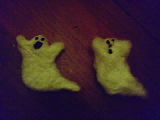 That is Ryan felting his ghost. Mine is the one on the left in the last picture. Andy's is on the right.

stay tuned for more "as my yarn spins...."