I know all of my blog readers aren't yarnivores, so I'll give you a bit of background. Hand knit socks are almost a higher plane of knitting. Many knitters think they could never accomplish such a challenge. The thin yarn and teeny needles intimidate many a knitter. Throw in the fact that you are knitting in circles- well, actually a spiral and then "turning the heel" and it seems like the Everest of knitting. BUT once you knit your first pair and put them on (assuming that they fit human proportions) you never want to wear store bought socks again... and you are addicted!
My Grammy was both a knitter and a crocheter. Every fall, she traced our hands and feet for new mittens and socks. We usually wore them right out before spring, but Grammy was happy to make us more. As the years got on and we got bigger, it became harder for her to knit, so I was more careful with my hand knits. After she passed in 1992, I was darning and hand washing my socks, hoping they'd last forever. I do still have them, but by 2005, they were no longer wearable and there wasn't enough left to darn.
Grammy taught me how to crochet when I was very little, but I never asked her to teach me to knit. I used to be mad at myself for not asking her when I had the chance. Now that I think about it, she had such little patience that I don't think that would have gone well. At one point I did try to teach myself to knit with a book and a baby blanket pattern, but I got bored long before it was even swatch-worthy. BUT, once I was out of hand-knit socks.... I knew it was time to try again. So, yeah, I finally learned to knit - with socks!
My knitting habit started around the same time as this blog actually. One of my first entries was my
first pair of socks
. You'll notice that was in April of '05. I only wore them a couple of times and put them away for the summer. I (apparently) brought them with me on our camping trip that August. It (usually) gets cold at night up in the mountains. shortly after that... they vanished....
Fast forward to this weekend. I pulled out the sleeping bags to air them out.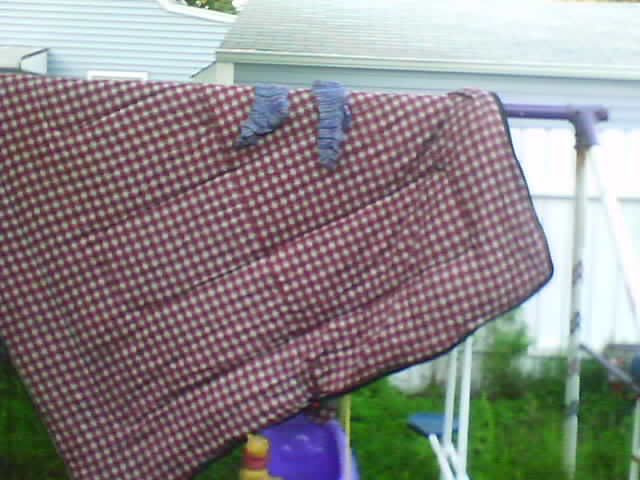 Imagine my surprise as I find MY SOCKS. My FIRST SOCKS!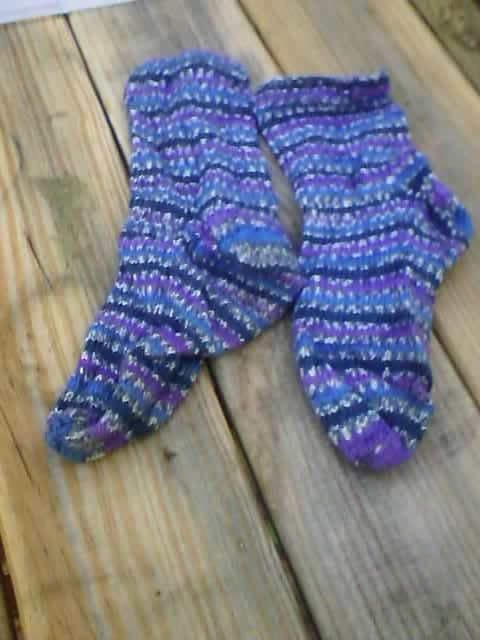 After 3 years, the Prodigal Socks have returned.
Last year
there were record high temps and I ended up sleeping on TOP of my bag (which I evidently neglected to air before the trip and didn't bother after since I didn't use it).
The year before
, I skipped camp, being 9m pregnant and all (worked out well since Colin was born while the big guys were still at camp with the ILs...).
Now, these are not the prettiest socks - or the best socks I ever knit. not even the most comfortable. But they are my FIRST socks. They are a rite of passage and a symbol of my becoming a Knitter.