If you know us at all or you've been reading this blog for a while, you know that Andy has had lasting effects from the trauma of the fire. At first, when we were rebuilding, we could see leaps in improvement as he saw construction progressing. Since we've been home, things have leveled off. He's tested out of ST and it has (thankfully) been so long since his last episode of night terrors that I'm not sure when it was. However, he is still afraid of his own shadow. He wouldn't try new foods or take new adventures. we had to practically bubble wrap him to get him to get him to learn to ride his bike without training wheels.
Something has happened this summer. I picked up some Chinese take-out for dinner and he asked me if he could try some. I know for most kids this is no biggie, but for Andy? HUGE!
He continued to amaze us this summer. Our first night at camp, I had to tell him to stop jumping on the rocks. He was jumping from boulder to boulder - next to the camp fire. not. safe. but I was proud of his bravery.
Then he asked to do the low ropes course (yeah.. I know... photos coming next week..) and tackled it like a pro!
Next up? WATER SKIING!!!
yes, this is the kid who won't swim without a kick board AND a life jacket... in the shallow end.
We ran right to the office to get him a pass and enlisted the official family photographer (Grandpa) to take pictures.
First, Eric worked with him on the dock and showed him how to "stand up" on the skis.
Then, they got in the boat and went out to the center of the lake (where his cousin, Jessica was skiing circles around him - literally!). Eric plopped him in the water and gave him some more pre-flight instruction.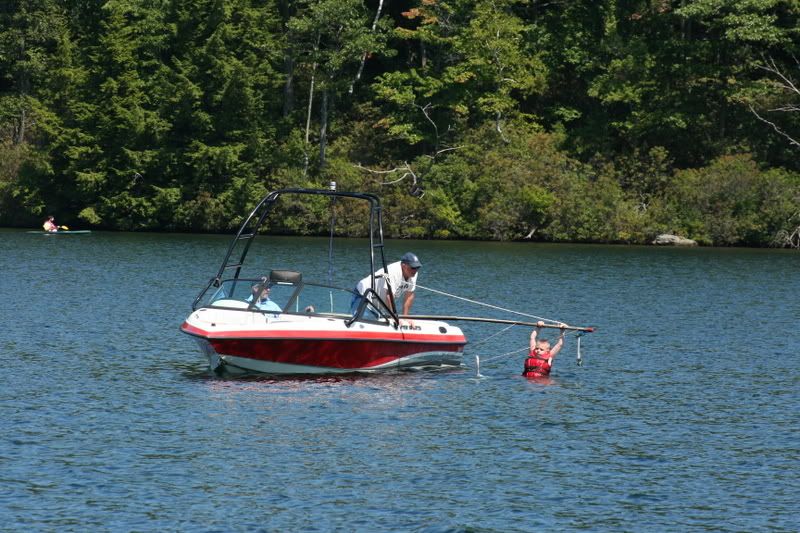 and off they went!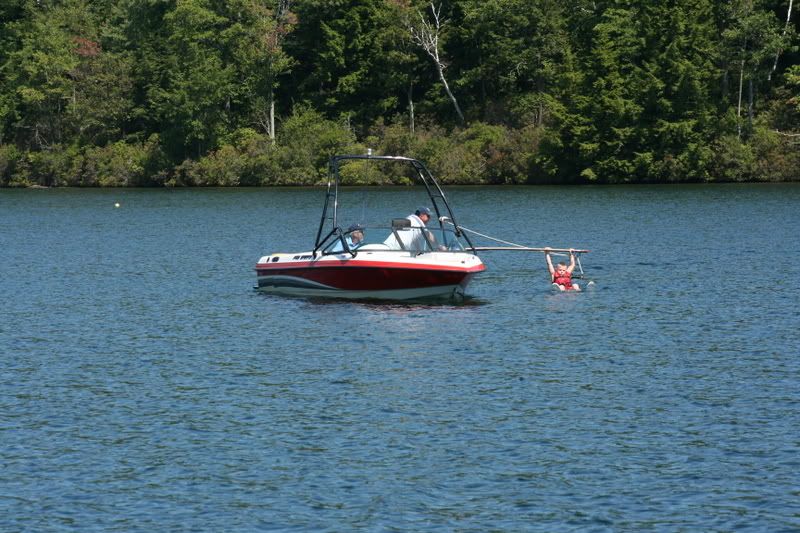 he never really got up, his arms aren't quite strong enough, but he is ready to try again next summer when he is bigger and stronger.
I was so proud of him when I stood on the dock watching him. It is almost like we've got our "old" Andy back. I know he'll never be quite the same, but I just hate to see him living his life in fear. I don't want him to miss out on life's wonderful opportunities.