The quilter's group on Ravelry has been having regular post card swaps. It really has been a fun and educational experience. I love seeing all of the cards from the other quilters so much that I've put them all up on the wall above my sewing machines. What wonderful inspiration!
Each round, I have chosen a theme. This time I took my theme one step farther. All of the cards fit together to form one larger quilt!
The theme:
Autism Awareness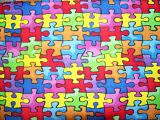 I had this bright, fun puzzle print that is the trademark of the
Autism Awareness
movement. I had other plans for it when I bought it, but decided against my initial plans.
I ironed it on to a 12" x 18" piece of Peltex (the kind that is fusible on both sides) and trimmed the edges. Next I cut it into 9 4"x6" postcards. In retrospect, I realize that I could have and should have waited until the cards were quilted and backed before I cut. next time!
To make the patterns for my appliques, I borrowed a puzzle from Ryan and chose 9 pieces from the center. I let Andy and Ryan choose 9 fabrics from my scrap bag that read as solids and coordinated with the print. Using the puzzle pieces as templates, I traced and cut each applique. Keeping the pieces oriented as they are in the puzzle, I spray basted one to each card. The applique was completed by doing a free-motion satin stitch on the edges in black to coordinate with the print.
The cards were backed by ironing muslin to reverse. The cards were finished off by serging the edges in red. Each one was addressed, stamped and sent off to its new home! I hope they are happy there!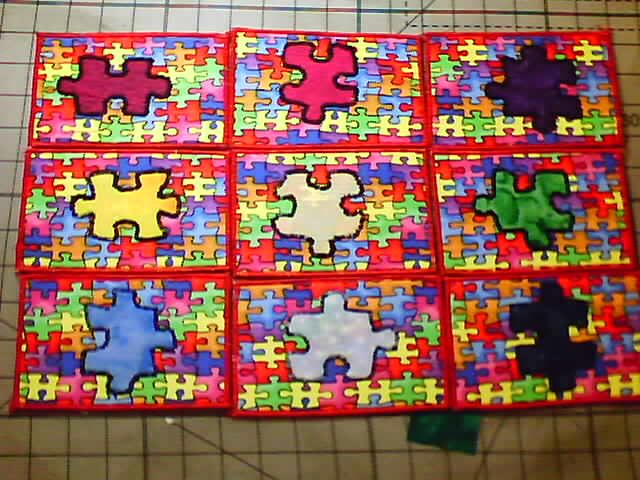 It was late, and I laid them out wrong... but trust me... they all fit together....