Still don't have the camp pics up.. so how 'bout some knitting?
First, I Finished Ryan's socks to match Todd's. Both pairs were test-driven at camp and got the seal of approval. they are both knit in my standard sock recipe. Toe up, 2x2 rib, short row heel. yawn.. but it shows the self-patterning yarn nicely and it makes for an easy commuter knit. the yarn is ON Linie supersock 100. needles US 1.5 (addi turbos).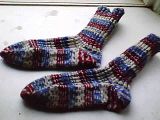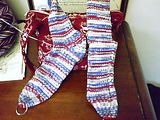 I cast on a new sock project for ME.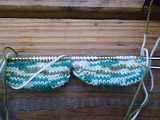 The yan is more ON Linie Supersock 100, pruchased at
WEBS
. needles are sitll US 1.5 ATs. The pattern is
Seaweed Socks
from
Wendy Knits
. I'm thinking I'll make the Large. Right now I am almost up to the Medium increaes, so I'll try it on and see.
Next up...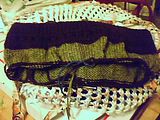 Longies for Colin. I bought the green (Cascade 220 Heathers from WEBS) thinking shorties, but spring turned into summer and we are approaching fall, SO, I picked up some Patons Merino in Brown to coordinate with it. I'm working 2" horizontal stripes. The pattern is the
Booty-Extreme Knit Pant
which I am really enjoying!