so the kids got ahold of my camera.. and now there is an error message. Mommy is NOT happy!
I figured I'd get some pics with Mom's camera when we got to her house. By that point, Colin had smeared Teddy graham mush on his pants and Ryan had wiped melted chocolate on his. Did I mention that the pants are white? SO, there are no picture of my kids looking SO adorable in their matching (oh yes matching!) Easter outfits. I did manage these with the phone:
Colin at the park before the Easter Egg hunt - yes that is a metal slide! Remember those?
After Easter Brunch - Colin's first wagon ride! the white pants were already dirty so, why not?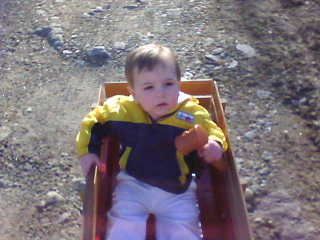 The outfits are cleaned and ready for
Jerry
to take some decent pictures as soon as Todd calls him to schedule.