A)
I wanted to respond to Diane's comment on the last post:
Calling it "why don't I own a knitting machine?" instead of "why didn't I decide to knit socks for someone with smaller feet" is probably a good thing. lol
it isn't the socks that are never-ending mind-numbing stockinette hell. it is a giant pioece of fabric to be felted into a batting/backing for a collaged art qult. the socks are moving along well and should make nice commuter knitting - which brings me to..
The shawls look great. How you manage to do all this with so many little ones in the house is amazing.
I am starting a new job soon, so I am home in the interm. the big guys are in school and the baby naps about 3 hours a day. I can also knit while he plays most of the time.
B)
I finished my "Library Challenge" block. The theme is "What is on your Library shelf?"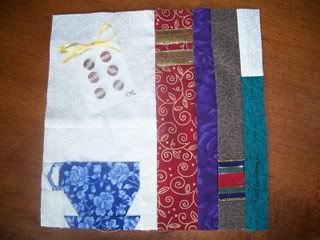 my apologies for the crappy lighting. All of the blocks submitted will be assembled into a quilt. the names of all the guild members that submitted a block will all go into a hat and the winner's name will be drawn. YAY!
C)
Ryan has decided to move into a tent in the living room.
I am now shopping for "bed tents" for the big guys so I can have my living room back.
D)
Remember the
collage quilt
I talked about last time? well, mom started hers. Andy is fascinted by it. I found it hard to believe, but Andy didn't know what a collage was. I explained that
Eric Carle's
illustrations are collage. He is a HUGE fan of Eric Clarle's work - HUGE! so.. he and I are making a quilt based on Carle's work. pics to come next time!