well, maybe not just yet...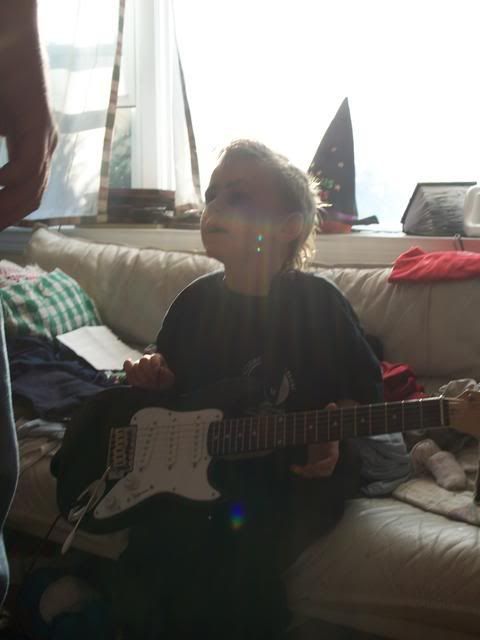 I tried getting all artsy and just ended up with a bad picture and Andy rockin' out (in front of a mountain or laundry...).
I know very little about guitars. BUT we got it at
Route 1 Guitars
and I am sure that if you stopped in, called or emailed, Gail or John will tell you everything you want to know about it. He first picked out a red one - because red is his favorite color (gotta love the mind of a child!). Unfortunately, the red one had a critical design flaw that prevented it from actually being plugged in and played. So, we traded it in for the black - which while not his favorite color, is actually functional!
Andy has had his first 2 lessons with Mike Nuno (if you are a Jazz fan, then I'm willing to bet you've heard him play). After his last lesson, Mike told Todd not to be so tough on him and to let him have fun. He gets upset when he makes a mistake. Yeah- that's not us - that's Andy! he gets SO upset when things don't go exactly right. He does practice every day and his fingers are getting stronger.