I've been busy in the dungeon! Lots of custom orders and beefing up C's stash in addition to stocking the store..
some Star Wars Fitteds for the store - already sold out, but more SW fabrics are on their way!!
one customer pocket (L) and one for Colin. I love the lime/orange combo. I also love how hte orange pops with the Dalmation.
this is for Colin.. It'll have fringe added - I forgot when I was assembling it D'oh! It is to go with his cowboy shirt!
I got more mesh and made a new batch of My Little Swimmers. I also solved the clashing diaper problem! I sold the red one and made him more blue! I put orange snaps on to match hsi shirt! (that came from Target!)
I also partcipated in a diaper exchange. I got to buy a cute little girly diaper and Colin got cool new fluffy mail! I read a post by my recipient (well... her mom!) that said that she wanted to try wool... so I whipped this skirty up! LOVE IT. the skirt is knit in purewool and the soaker and trim are crocheted in a wool that my MIL picked up on one of her trips to Scotland (where she is right now actually!)
Colin recived this ADORABLE diaper- I had to make this pic big so you can see the racecars on it! the T-shirt AND insert also came with it!!!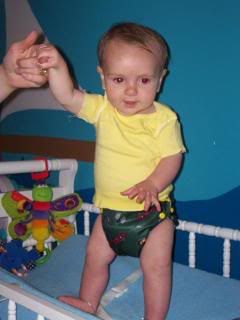 there was more diaper sewing... but the camera battery died... next up is Colin's epipen holder. then the next fabric order should be in and I can make some more fitteds and inserts.
In other news.. our wonderful stroller of over 6 years met with an unfortunate end last week... BUT we have new stylin' wheels! it is huge and heavy when folded, but we really got it for around town.. and we have an SUV...