A little while back I was lucky enough to win a yarn contest over at the
Steel City Knitter's blog
. I was the proud recipient of 4 balls of black fun fur. I know.. you are wondering why I would be so excited to win black fun fur.. aside from teh rush of winning yarn.. I wanted to make a kitty bed and some toys. Initially I was thinking wool - felted with the FF trim. but then I scrapped a sweater I started (homepun + cables = VERY BAD IDEA!) and I used 1 strand homespun and 1 strand fun fur and did the top edge in 2 strands fun fur. I crocheted little circles with 2 strands fun fur for kitty toys. Oddly enough the cats immediatly took them and hid them.. no cat models were available at the time of this photo.. they were playing wiht new toys!
Unfortunately, there was not enough fun fur left for another one to be donated to the shelter, but I have plenty of homespun for more beds and enough fun fur for toys. I want to drop off some toys before christmas, but I know if I try to dothe beds then too, I'll make myself CRAZY if I try. I am working on a pair of custom longies and I need to make a felted bowl for Sunday and then there is also Colin's Christmas Stocking.
I had to take a break from the longies to knit a scarf for Andy. he went outside for recess the other day and had an asthma attack. he coughted so hard he vomited... so I ran out and picked up more wool east T&Q and made a simple GS scarf to match his hat.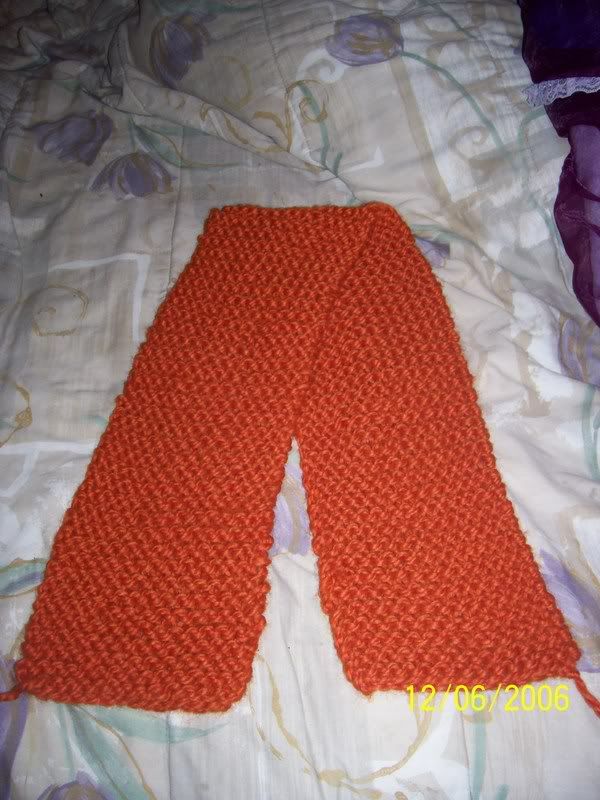 what else....
we saw SANTA!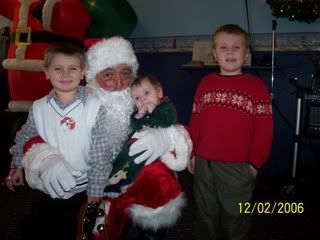 and Ryan turned 4!