I know. I know.... I miss my blog - even if no one reads it, it makes me happy. The good news is that one of Santa's elves just told me a new laptop may be under the tree. (Actually,
I
Santa may set it up ahead of time and put a bow on the amoire for the kids to find after all the rest of the gifts are opened.) My very smart and very cool cousin Kerry just told me about the
Disney Netpal
and it looks perfect for the kids (and I can blog on it).
so, a quick round up....
Andy and Ryan are pretty much the same - just taller. They are both still in MMA, but Ryan is now a higher rank than Andy (D'oh).
Ryan actually is having his best year yet academically, but best of all NO behavior issues. Andy's grades are pretty good, but his effort is lacking. If he did more than the minimum, he'd have all A's. He is also going to get OT for his handwriting and they are having him work on typing to help him keep up cognitively - hence the kid friendly computer.
Colin is now in Pre-K and LOVING it. He was the only student in his class for a while, but now he has two new friends. They are going to increase his class time to 5 mornings a week - YAY! He is going to have such a great time. He wants to get on the bus every morning anyway. That will start after Thanksgiving break. He wants to take karate too, but we told him he has to go poopy on the potty first.... soon enough...
Todd is back in MMA as well. I should actually start with - Todd is back. there are no words to truly explain what the last year has been like for us. The changes he has made in himself are astounding. He is a new man, and trust me the changes are for the better. Our lives now are so different from what they were last year that it is sometimes hard for me to remember what it was really like then. Don't get me wrong, the insanity isn't 100% gone, but now it is just fun insanity - or kid related.
As for me... I don't know where to start. The new job is OK. The work is easy. The hours are... well they vary. I'm at the end of a 3 month night rotation now. The nights are sometimes hard, but it does offer me a lot of flexibility for the days. I am actually going to guest lecture at CCSU this morning and I'm looking forward to it. It is really amazing what opportunities have opened themselves up to me now that my decisions are based on my own desire.
how about some pics?
I am doing a BOTM on
Ravlery
and I'm assembling the strips and lap quilting them. The print fabrics are vintage feed sacks. This is the first strip:
The back pieced from the scraps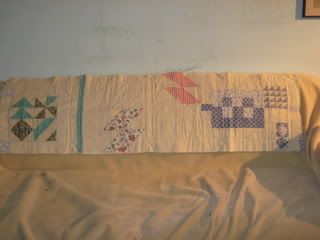 the first block of the next strip
scraps from that block for the backing strip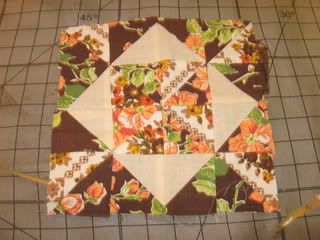 This is a top that I threw together last week from strips in my stash.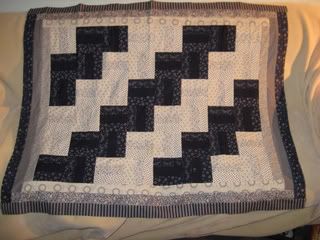 As you can see, I've been in more of a sewing mood lately. I have been knitting too, but mostly boring utilitarian socks for work.